History of Hebron Lutheran Church
This church has been in continuous use through all of American history, and the original part of the building is the oldest Lutheran church built and continuously used by Lutherans in the United States.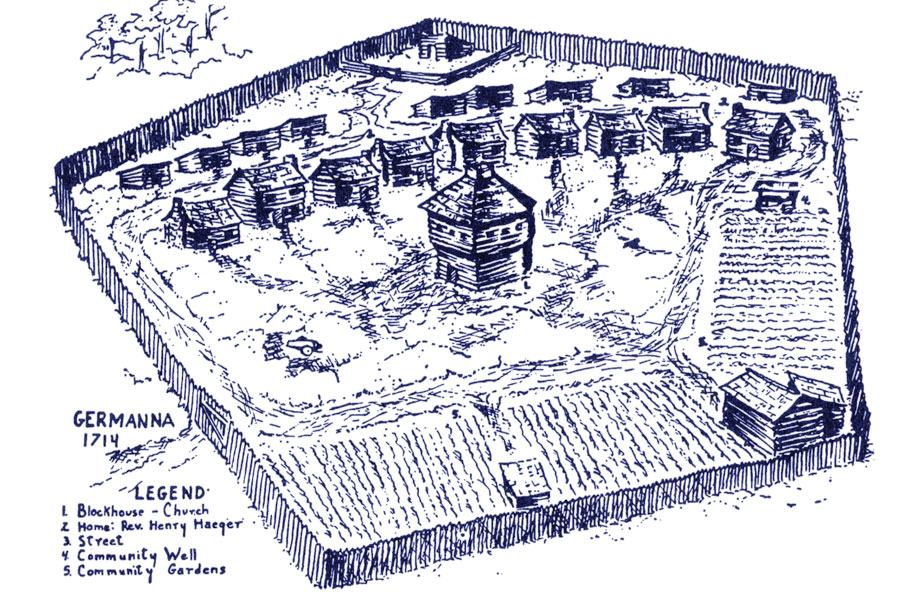 The original section of Hebron Lutheran Church was completed in 1740 and marks the culmination of a struggle for the congregation which began while worshiping together in London before embarking for America. This band of German Lutherans, known as the Second Colony, arrived at Germanna in 1717.
After eight years at Germanna, the colony moved into the wilderness into what is now Madison County. A year or two later a log structure known as the "German Chapel" was built. In 1733, the congregation of approximately 300 obtained the Reverend John Caspar Stoever.
The log chapel soon became too small, but the members could not afford to build a larger building. So, in 1734 Pastor Stoever and two members went to Europe to solicit funds to build a church, establish a school, and secure an assistant pastor. They secured these and Reverend George Samuel Klug as assistant pastor. Pastor Stoever died on his return voyage in 1739.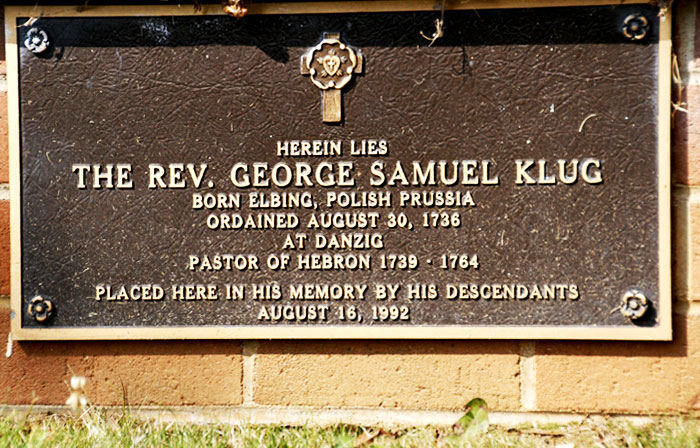 However, the work he planned was carried out by Pastor Klug. The new church building was begun. It was a rectangular frame building and contained a gallery at each end with a pulpit on one side. By 1748 a school was started.
Reverend William Carpenter, who took office in 1787, was the first pastor to preach in English, and the church prospered. The building again became too small and an addition was built on the south side of the original church. The building became cruciform.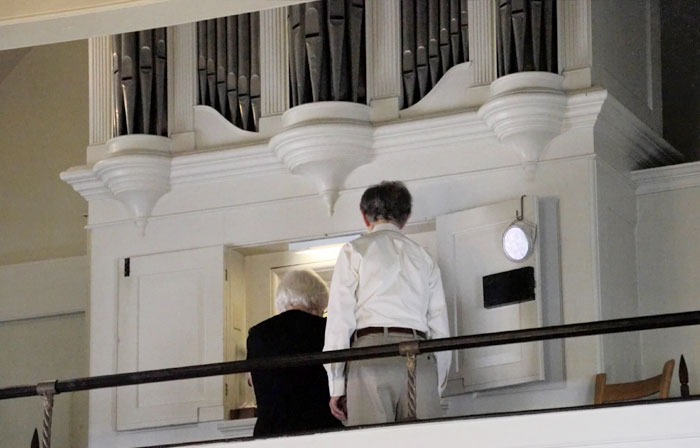 An organ loft was fitted into the end of the new annex facing the pulpit. In 1800 David Tannenburg of Lititz, Pennsylvania, built the organ which was installed in 1802. This eight-stop instrument is the only one of Tannenburg's organs which survives in the same place where it was originally installed. It was completely restored in 2015.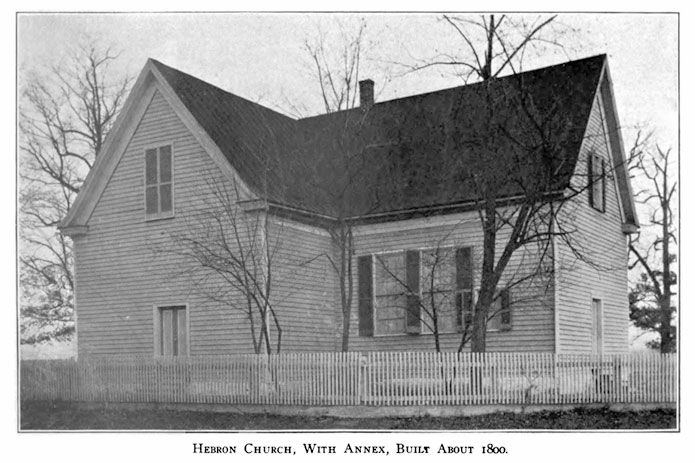 Essentially the present church structure was completed during this period, 1790-1802. Still changes have occurred through the years.
A major renovation of the church building was done in the 1880s.
In 1903, the first interment was made in the cemetery.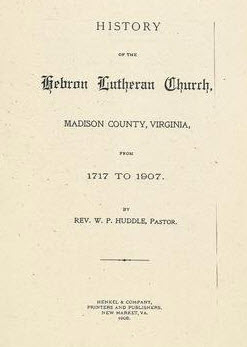 In 1908 the History of Hebron Lutheran Church by Reverend W. P. Huddle was published. Read book: History of the Hebron Lutheran Church (pdf)
In 1961, the church again underwent renovation, and though the framing, galleries, and original roof trusses remain, much of the fabric was replaced.
The brick Parish House was constructed in 1959.
Maintenance and upgrading are continuous. All existing records are on microfilm, including the treasurer's report for 1733, and are in Alderman Library, at the University of Virginia.
After its dedication in 1740, this church has been in continuous use through all of American history, and the original part of the building is the oldest Lutheran church built and continuously used by Lutherans in the United States.
1717 Colony from the Kraichgau and the Palatinate:
Conrad Amburger/Amburgey,
Andreas Ballenger,
Christopher Barlur/Parlur/ Barlow and wife Barbara,
Matthias Beller,
Balthazar Blankenbaker / Blanckenbühler and wife Anna Margaretha,
Matthias Blanckenbühler / Blankenbaker and wife Anna Maria Merklin,
Nicholas Blanckenbühler / Blankenbaker and wife Appollonia Käfer,
Johannes/John Breuel/Briles/Broyles and wife Ursula Ruop,
Cyriacus Fleischmann/Fleshman and wife Anna Barbara Schöne,
Hans/John Herrensparger/Harnsberger and wife Anna Barbara,
Hans Michael Holdt/Holt,
Wolff Michael Käfer/Kaifer,
Andreas Kerker and wife Margaretha,
Hans Michael Klaar/Clore and wife Anna Barbara,
Johann Michael Koch/Cook and his wife Maria Barbara Reiner,
Jacob Crigler,
Johannes/John Motz and wife Maria Appollonia Maubars,
Hans Georg/George Majer/Moyer and wife Anna Barbara,
Hans Michael Mihlekher and wife Sophia Catherina,
Johann Philip Paulitz and wife Rosina Margaretha Schneider,
Heinrich/Henry Schlucter,
Johann Georg Sheible/Sheibley and wife Maria Eleanora Ockert,
Matthäus/Matthew Schmidt/Smith and wife Regina Catherine Schlözer,
Hans Michael Schmidt/Smith and wife Anna Margaretha Sauter,
Hans Heinrich/Henry Schneider/Snyder and wife Anna Dorothea Schilling,
Johannes/John Thoma/Thomas and wife Anna Maria Blanckenbühler,
Johann George Utz and wife Anna Barbara Majer,
Phillip Joseph Weber/Weaver and wife Susannah Klaar,
Nicholas Jager/Yager/Yeager and wife Anna Maria Sieber, and
Christopher Zimmerman and wife Anna Elisabetha Albrecht.
*Additional information about Germanna is available on GERMANNA.ORG